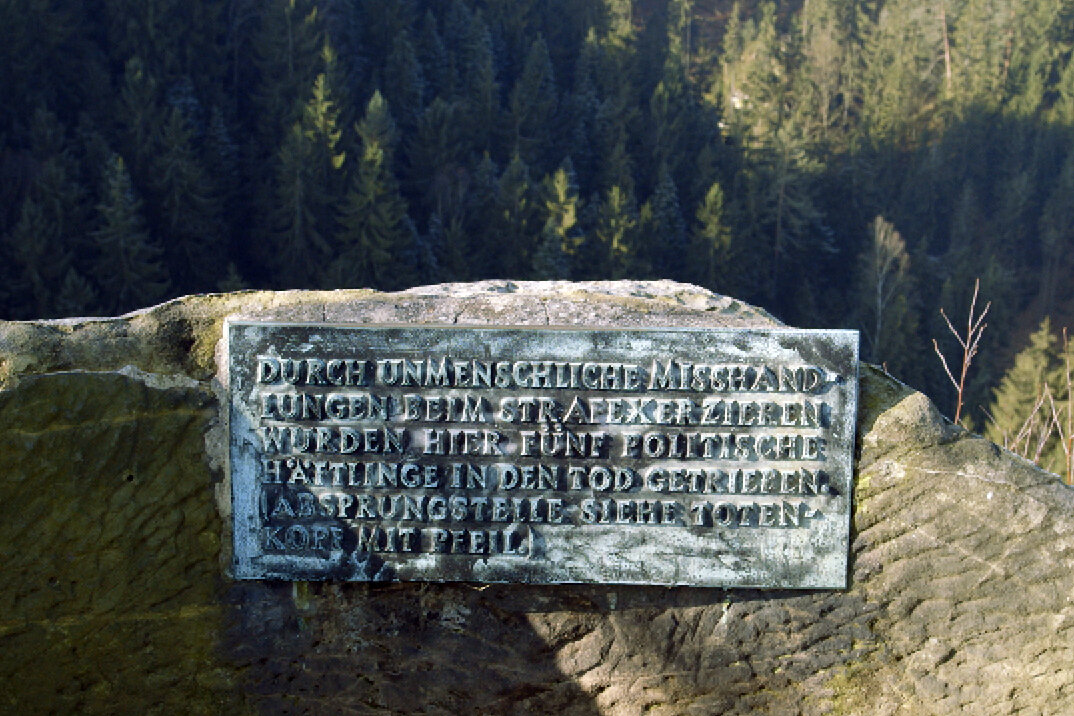 Stream via liberation.buchenwald.de
This film's point of departure are the so-called 'wild camps' that the National Socialists began establishing in March 1933, immediately after they came to power, to eliminate their political opponents. These concentration camps have now been largely forgotten. Zustand und Gelände (Status and Terrain) deals with how these places have been overwritten by time and inscribed by different political memory cultures. The film links three consecutive periods of German history to form a loose narrative in which the use of violence to enforce power plays a key role.
Images of streets, houses, palaces and castles in Saxony are accompanied by an off-screen voice reading excerpts from bureaucratic correspondence, diary entries and literary fragments. The first documents are from 1933 and revolve around the search for and organisation of 'protective custody' and concentration camps, the suppression and resistance of the political opposition, traumatic experiences. New layers of time are gradually added – 1945, 1977, 1990, 2011 – and with them come discourses on memory culture: the representation of these events, the creation of memorials, the definition of the term 'victim of fascism'. Sight and sound are separated from one another; the images of these sites in the present day contrast with the spoken description of their use and interpretation in various historical periods. Zustand und Gelände explores places that were part of a web of fascist infrastructure at the start of the Nazi period, and that later on – after World War II, after the end of East Germany, in the pan-German present of the NSU – became contested sites in the debate over the power to interpret history and legitimize policy.
This gives rise to the oppressive sensation that the past forces itself into the present and history is stratified, and in each image different points and periods in time multiply and insist on their presence in the here and now.
Live discussion after the screening with Ute Adamczewski, Jonas Kühne and Jens-Christian Wagner.
Watch the trailer and find out more.
Germany 2019 | 118' | Original with subtitles (German/English) | Director: Ute Adamczewski
19:00 Uhr
Online premiere - Stream via liberation.buchenwald.de