Disappearing Wall – with messages that remain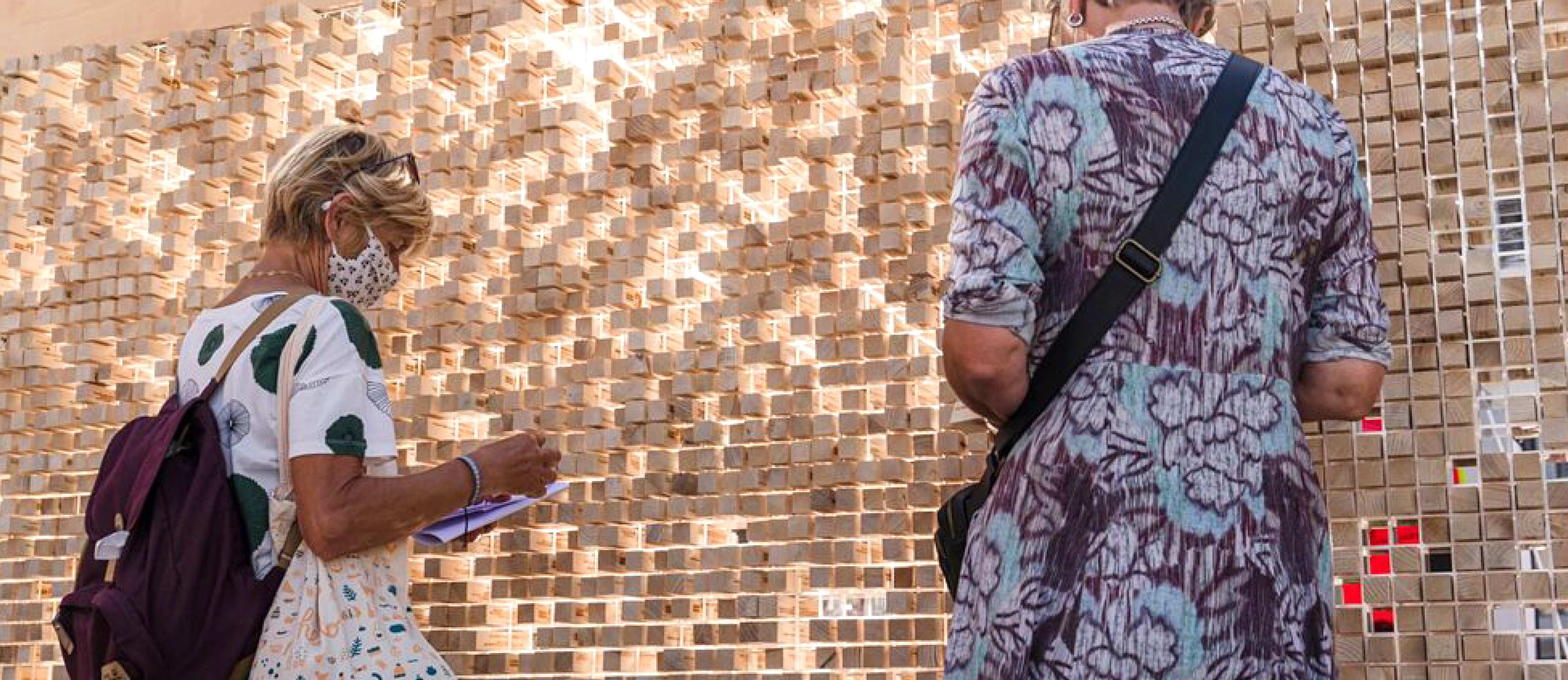 6,000 wooden blocks bear messages from nearly 100 survivors of National Socialist crimes. Visitors to the installation are invited to take these words home with them:
You can pull out blocks, discover quotes, read them and take them with you.
The wall will gradually empty out and disappear – but the messages from the survivors will be passed on.
The installation is based on an idea proposed by the Russian student Maria Yablonina. The first Disappearing Wall was displayed by the Goethe-Institut in Moscow in 2013 on the anniversary of Germany's invasion of the Soviet Union. Since then, the Disappearing Wall has enthralled people worldwide. In 2015, the Goethe-Institut brought the installation to Jerusalem, Tel Aviv, Haifa and Be'er Sheva for Germany-Israel year. In 2020, the installation appeared in 16 European cities as part of the official cultural programme of the German federal government for Germany's EU Council presidency. From Vilnius to Belfast and Thessaloniki to Madrid, the Disappearing Wall with its quotes from high and popular culture represented Europe's linguistic and cultural diversity.
On 11 and 12 April 2021, the wall will disappear in Weimar. This is the first time the well-travelled installation will visit Germany. Another new feature of the Disappearing Wall is that it now holds quotes from survivors, which have been inscribed on the wooden blocks 76 years after the liberation of the Buchenwald and Mittelbau-Dora concentration camps. These messages prompt visitors to think transnationally about the presence of history – in Europe and beyond.
This adaptation of the Disappearing Wall for the 76th anniversary of the liberation is a cooperative project between the Goethe-Institut and the Buchenwald and Mittelbau-Dora Memorials Foundation.
Starting on 11 April 2021, the lasting messages will also be shared here, and you can find out more about the people who left these messages for us.
An interactive art installation for the 76th anniversary of the liberation of the Buchenwald and Mittelbau-Dora concentration camps, comprising quotes from survivors of the two camps and their subcamps.
10:30 Uhr
11 April: Opening - Theaterplatz Weimar